As one of the city's most dynamic and intriguing neighbourhoods, the Baltic Triangle is the coolest part of the city centre. Over the last few years, it has become a must-see spot for visitors to Liverpool as it is only a short walk or taxi ride from the city centre and is home to many wonderful bars, shops, and other attractions. Not only is the a bustling and thriving area now, it has a rich history as well. I'll talk you through some of the key points now.
Wood from Norway was once stored here before being transported throughout England via the Liverpool Docks and canals. In addition to its thriving whaling industry, with workers from the Nordic communities, Liverpool is also home to the spectacular Nordic Church, which was built along Park Lane to service the 50,000 Scandinavian emigrants who passed through the city on their way to North America. The youthful architect William Douglas Caroe was responsible for the design and build of the church which opened in 1884. It was the first Swedish church ever built outside of Sweden, and it is now one of just four octagonal church buildings in the United Kingdom. It's a gorgeous Grade 2 listed structure that you shouldn't miss if you ever get the chance to visit.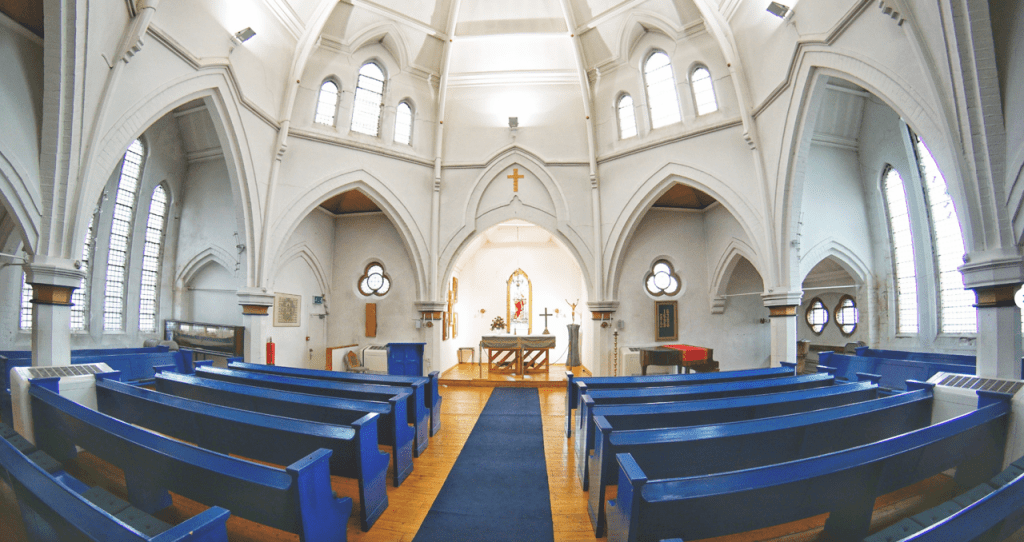 The Cain's Brewery, a structure of historical value in its own right, has been given a facelift that has made it into an attractive destination in its own right. The entrance is on the corner of Grafton and Stanhope streets; crowds spend Saturdays and Sundays here, taking in the sights and sounds and partaking the food and beverage offerings of the Baltic Market. This historic structure dates back to 1858, when it housed Robert Cain's brewery.
Several breweries, including Walkers, Higsons, Whitbread, Boddingtons, etc., bought it out before it finally shut down for good in June 2013. Red Brick Vintage is a great place to have a good root and toot with all the different stalls to choose from, and once you've worked up an appetite, you're conveniently located within walking distance to a number of excellent restaurants and bars, including the Baltic Market, Ryde, Peaky Blinders Bar, Birdies Bar, The Tank Room, LuBan Restaurant and Punch Tarmy's. There is so much out there for you to explore.
Ghetto Golf is a great place to go have fun, and you'll notice right away that it's a great place for people to unwind and socialise. I really appreciate that canine companions are welcome! Take a shot in front of the Abbey Road Crossing that local artist Paul Curtis has painted onto the wall just outside the door to Punch Tarmy's on Grafton Street if you get the chance; it's just one of many amazing works of art you'll see all around the city.
There is much to see in the expanding downtown area after you've sampled all the local fare. Along Jamaica Street, you can find many more murals to admire, some of which are Paul's own creations. The Duchess of Cornwall has shown her approval by posing in front of the most photographed pair of Liver bird wings, and she's not the only royal to do so! Try it out for yourselves.
This area also features numerous bars and trendy new shops. The neighbourhood has changed drastically in the last five years, and every time I visit, I see something new.  In keeping with the Baltic's longstanding legacy of breweries, the nearby Love Lane Brewery offers tours and tastings that must be scheduled in advance. The incredibly stunning Baltic Hotel also contributes to the neighborhood's vibrancy, as well as offering a world class hotel for visitors to stay right in the heart of the Baltic.
The Baltic Social, Camp and Furnace, and Hobo Kiosk are also nearby. All of these bars have its own unique style, and if that isn't enough, one of the unique local hangouts is Constellations. If the weather is nice, you should definitely take advantage of their garden patio. Many a pleasant evening can be spent here.
In 2010, The Baltic Triangle neighbourhood CIC began redeveloping the neighbourhood, bringing in new businesses and renovating existing ones. One of the city's most eccentric and cultural districts is finally here, and it's only getting better as time goes on. You may easily reach the centre of town in 10 minutes on foot or for a small fare by taking a cab. Whether you're looking for a fun night out on the town or a quiet place to spend a Sunday, you'll find plenty of options in the region, and you'll feel right at home among the friendly residents.
That is why HubSquared is located in this bristling, creative and cool community. Get in touch now to see how easy and convenient it is for your business to call this place home too.